Five steps to a sustainable wardrobe
Friday, 12 May 2023
David Evans AKA Grey Fox discusses practical ways to build your wardrobe with the planet and people in mind. David started writing about style for the older gentleman in 2011 and is a well-respected voice on how to dress well at any age.
What is the problem with fast fashion?
In the UK the average item of clothing is worn ten times before being thrown away. Our clothes have become disposable, a far cry from earlier generations that owned limited wardrobes that they would wear regularly, repairing when needed.
The links between wasteful over-consumption and climate change are well-established. Textile industries produce more greenhouse gases annually than all international flights and maritime shipping combined. Large amounts of non-renewable resources are used to manufacture and transport clothes which are worn infrequently or even go straight to landfill unworn. Plastic microfibres pollute our oceans. The manufacture of clothes can harm the environment directly, through pollution and use of limited resources such as water.
There are also human costs. Although the industry provides employment for millions around the world, there are sadly examples where those who make the clothes for us have to work poorly paid or in unsafe conditions.
Unscrupulous brands make claims about the sustainability and ethics of their manufacturing and supply chains which are misleading. Consumers are confused and misled by 'greenwashing', dubious claims about the sustainability of products. Cutting through this hype to buy clothes is not easy. Few of us have a close understanding of the complexities of climate change and the human and environmental costs of the clothing and textile industries to be able to make informed choices.
How can we, as consumers of clothing, contribute to tackling the human and environmental costs of the industry? The best solution available to us is to buy better and to buy less.
How can we cut through the hype to take a green approach to what we wear?
Buying well-made ethically produced clothing makes sense. Quality products last longer and are also a pleasure to own and wear. Cheap, poor quality clothes may give us a brief rush when we buy them, but they soon become a burden and that's the reason why many new clothes are unworn before being thrown away and ending up in landfill.
Five steps to a sustainable wardrobe
1. Buy only what you really need. It's easy to be lured by the pleasure of the purchase, but too often buyer's remorse strikes when we have bought things we don't have a real use for. I'm not advocating a return to the minimalist wardrobe of the forties and fifties: we need clothes for work, play, formal occasions, outdoors and of course each season requires appropriate garments. But don't duplicate or buy things that we will only use once of twice before disposing of them.
2. Plan a capsule wardrobe. By this I mean consider each purchase carefully so that you have what you need and nothing that will remain unworn. Will this item fit with the clothes I have in terms of style, colour and practicality? We don't wear our clothes in isolation, each has to go with something else to make up a complete outfit. You may rarely wear a suit but could buy one made up of jacket and trousers suitable for wear as separates. The Cordings tweed suits are ideal or this. I own one of their tweed suits and often wear the jacket with jeans, cords or chinos or the trousers with knitwear or a navy blue blazer. The suit is the perfect multi-functional item for your capsule wardrobe.
3. Buy as good quality as you can. You can't go wrong with British-made knitwear and cloths. Check tailoring carefully to ensure it fits well and isn't skimped in terms of jackets cut too short, trousers too skinny, knitwear thin and harsh in feel. Look at the details of the garment, are the buttons properly sewn on, does the pattern match up at the seams, how does the cloth feel and drape? The inside of the garment should be well and neatly finished with no uneven edges to the material. Gaping seams, uneven and poor sewing, lightweight and harsh materials and poor fit are signs of low quality. Such garments may cost less but will cost you more in the long run.
4. Consider the origin of the clothes you buy. Clothes from some parts of the world are cheap for a reason; the quality may be poor or, worse, the individuals making them may be badly paid and having to work in unsafe conditions. British-made products, those made in Europe and in some countries like Mauritius have usually invested in high-tech manufacturing facilities and pay and treat their workers well.
5. Check the labels for origin and materials. Ask about sustainability. As I mention above, it can be hard to check manufacturer's claims but you will get a feel for their veracity by discussing your concerns with them.
Why Cordings embody the ethos of slow fashion.
I've long been a great fan of Cordings clothes and indeed that's why I've agreed to write this feature for their blog. I try to restrict my purchases within the five guidelines above. Cordings is a brand that uses the best cloths for their coats, tailoring and shirts. Many of these are made in the UK – Scottish and Yorkshire tweeds for example. Some cloths and shirting may be sourced elsewhere, such as Italy. Sadly we cannot make everything here in the UK (those days are long gone) and it's often a question of finding the best and most suitable materials that can be sourced affordably and sustainably to make the high quality and fairly priced products that Cordings sell.
Cordings' products are modern classics in terms of design and materials, so they won't look dated as quickly as high fashion items. Here are a few of my favourite Cordings garments which I wear regularly:
Grey Lewis Harris tweed jacket – beautifully tailored from the famous cloth which is woven in the homes of people living on Harris and Lewis in the Outer Hebrides.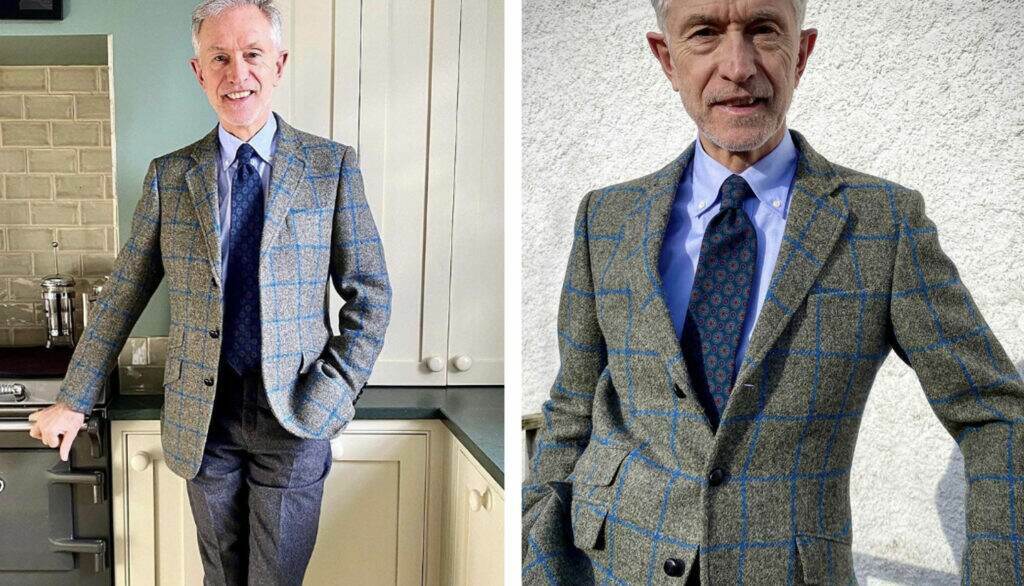 Brushed Shetland crew neck – made in Scotland and gently brushed with teasels to give a soft finish.
Skipton tweed suit – one of Cordings' brighter checks made from a tweed woven in Yorkshire. If the check is a bit much for you there are many other patterns to choose from. I wear this as a suit or the jacket with jeans or cords and the trousers with Shetland knitwear.
Hampton Mackintosh raincoat – a real blast from the past, this is a very traditional raincoat which has been available in this form since early in the last century. A genuine classic.
The Wayfarer jacket – this one is on my to buy list as I don't yet have one, but it strikes me as ideal for those country, park and dog walks where practicality and style are important. An inspired alternative to the workhorse anorak.
David Evans
www.greyfoxblog.com