Dukes X Cordings Collaboration Boot: An Interview with Daisy Duke
Thursday, 20 September 2018
We are very excited to announce our collaboration Chelsea Boot with Dukes Boots, handmade leather boots, designed in Britain and handcrafted in Spain. Working with the Cordings design team, they have created a bespoke Chelsea boot crafted in black or tan suede with an exclusive Cordings coloured pull tab. These boots can be embossed with up to three letter for added personalisation. We sat down with Dukes Director, Daisy Hare to discuss the collaboration and learn all about the process and history of Dukes Boots.
Daisy, tell us how it all started!
It all began in 2005 whilst I was travelling around Spain, I fell in love with a pair of their traditional boots. Getting these beautiful boots was virtually impossible in Britain, home of country attire and traditional style and so, Dukes Boots was born! My love affair with boots has a slightly longer history than this though as boots have run in the family for decades with my family designing the famous cowboy boots, R. Soles, with a store on the Kings Road in London.
What makes a Dukes Boot so special?
Once I've designed the boots, they are then handmade by traditional artisans in the mountains of Spain using the highest quality natural materials. Every component of our boots is handcrafted using traditional methods ensuring that our boots are designed not only to look beautiful but are made to last. Dukes Boots are traditionally British design and simply get better with age.
How do you decide on the styles and designs of your boots?
Initially, when I started, I would design boots that I loved and that I wanted to wear. Now that Dukes has gained a large following, I also now incorporate designs from feedback and requests from our customers so that we have a nice mix of both.
Tell us about the initial embossing?
At the moment, I believe that we are one of the only companies that offer an initialling service across all of our styles. We have perfected a method that enables us to stamp on suede which is quite a tricky thing to do, so we are unique in offering this. All of the initials are stamped by hand. I started experimenting with personalisation as I wanted to offer our customers something extra. Perfecting the process took months (and a lot of patience… and boots!) and customers now have the choice to personalise in a variety of colours.
Who's the most exciting person you've worked with?
The most exciting thing for me personally was sending samples of boots to the Palace for Kate Middleton and receiving letters from Buckingham Palace! We have also sent personalised Dukes to Cara Delevigne, Fearne Cotton and Niall Horan which the Dukes team were all very excited about!
Out of your growing Dukes Boots collection, which is your favourite boot?
As a country girl, my favourite boots are the more classic/traditional styles that we have – my absolute favourite boot is the Cara boot as this is a Chelsea boot constructed with a chunky all weather sole which is great for the outdoors on a practical level. In terms of style, the new Dukes x Cordings boots I absolutely love, as these are simple, classic Chelsea boots that will never date or go out of fashion – a real wardrobe staple.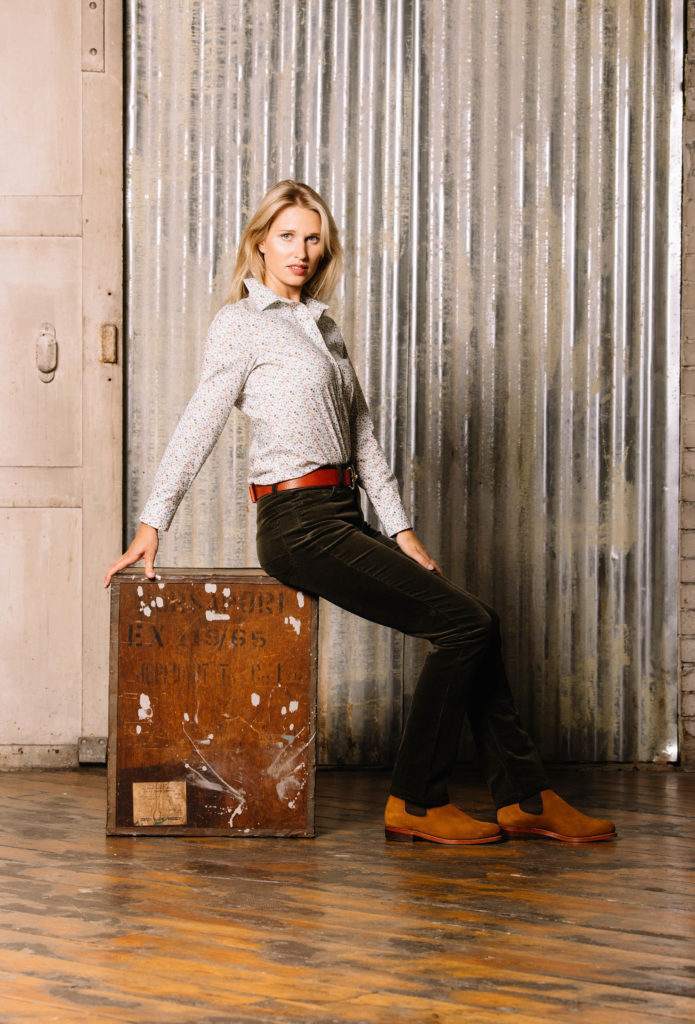 What are the most important elements you consider when designing your boots?
When designing a boot, there are a number of elements that are important. For me, one of the most important is the shape of the boot itself – I like the boots to be the right toe shape and also flatter the leg (for taller boots). Comfort is also paramount, as there is no point in designing a beautiful boot that is so uncomfortable that you struggle to wear without having to buy shares in Compeed!
Do you have any top tips on caring for your boots? 
For suede – buy a good quality suede brush! This will keep boots looking neat and also removes dirt from the nap of the suede. Looking after the suede will make sure that your boots last and so spraying them with a suede protector every now and again also makes a huge difference. The leather is a little easier to look after – polishing leather once in a while will keep leather looking nourished and clean – this doesn't mean that you have to polish your boots to make them glossy – you can buy coloured matte polishes which simply nourish and protect the leather without that high gloss finish.
I also recommend to all of my customers purchasing leather soled boots to invest in a leather sole oil and apply it to the soles every couple of months. This makes the leather soles last a lot longer as, without any care, leather soles wear a lot quicker than rubber soles, especially in wet, English weather.
Finally, tell us why you chose us to collaborate with?
To be honest, I wasn't searching for any company to collaborate with – it wasn't out of a need to collaborate with someone on something, I just really wanted to work with Cordings.
I simply love the history behind Cordings and the focus on everything traditionally British and I thought that the brands would align well with a focus on high-quality goods. I approached Cordings with my idea of working together and the process flowed very easily and smoothly from there. I think that this is because we both have the same core values in our products and design, just with different markets. Cordings has such a vast and interesting history and tradition, it was an absolute honour to design a boot together.